A solution that aids in delivering exceptional customer service.
CustomerWise is a comprehensive customer support and business process management solution that is ideal for the unique requirements of B2B technology companies.   By integrating support and service ticket management, customer self-service, license and contract management, and a product knowledgebase, CustomerWise empowers you to focus on customer service throughout the entire customer lifecyCle.  With powerful process management and automation rules, CustomerWise allows you to visualize and implement other processes that can include change management, problem management, development and QA.
B2B Customer Support
No matter the size of your business, excellent customer service needs to be at the heart of your business model if you wish to be successful.   CustomerWise empowers your reps to cater to your customers and more importantly offers a platform for customers to provide valuable feedback.   CustomerWise scales with your growth whether its simple ticket management or global enterprise support.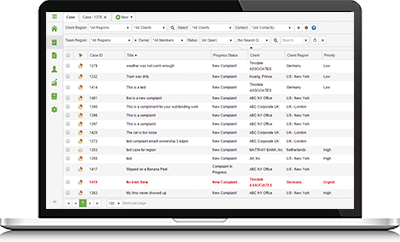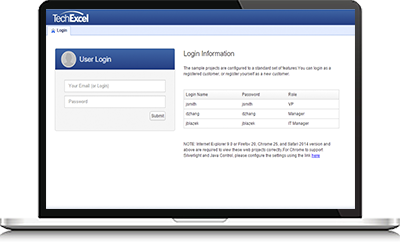 Customer Web Portal
CustomerWise features a portal for your customers to quickly get access to you and pertinent information.  A knowledgebase enables users to search for resolution prior to submitting a ticket and a customizable interface allows for news and announcements to be tailored to different customer tiers.  Cut back on support costs by empowering users to help themselves.
Professional Services
Professional services offers profitable revenue by ensuring your projects are more successful and your customers are more engaged, thus making you more referenceable. CustomerWise offers a platform for your service engineers to keep track of services and customer budgets and invoices can be created by recording time and effort.  A mobile app is also available for those out in the field.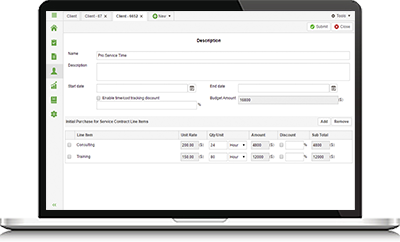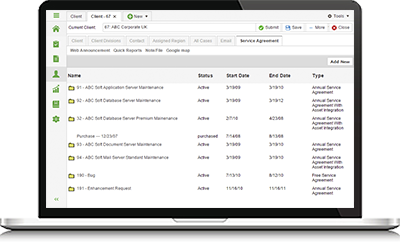 License and Contract Management
CustomerWise allows you to effortlessly track every item you've sold to each customer, including all your various contracts with them.  Support plans and SLA's can be tracked and associated with each customer or incident so the team can focus on resolutions while meeting the customer's expectations.
Knowledge Management
CustomerWise provides a robust knowledge management framework that allows you to create a library of product information, sales documents, user guides, troubleshooting tips, training videos, etc… Knowledge items can be customer facing or for internal use only, and the support team can easily push knowledge items out to a customer contacts via email or the web portal.
Organize knowledge into a definable tree structure
Create a knowledge review and approval workflow process
Fully configurable meta data for searching and reporting
FAQ management integrated with the customer web portal
Publish resolved supported tickets directly to the knowledge base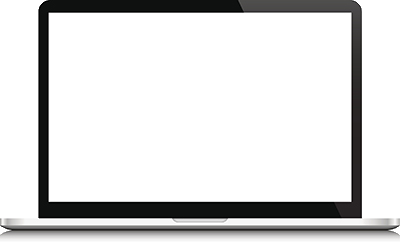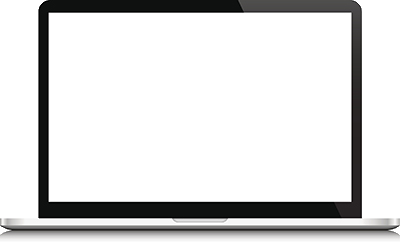 Sales Process Management
CustomerWise offers a Sales Management module ideal for B2B technology sales teams. Fully integrated with Customer Support, Knowledge Management, Customer Asset tracking, and maintenance renewals, CustomerWise allows your sales team to easily track the complete sales lifecycle and work seamlessly with the support team.
Easily configure the sales lifecycle most appropriate for your business
Create sales quotes based on your product catalog and maintenance plans
Closed sales automatically create customer assets based on the sales quote
View all open Support tickets from within any Sales Opportunity
Forecasting and Sales pipeline analytics

Key Features
Multiple Ticket Types

Define unique ticket types such as support ticket, bug report, enhancement request, information request, etc., each with unique fields and workflow.

Workflow Automation

Simply draw your process into CustomerWise and select the process automation and control rules appropriate for your business.

Task Management

Create and track tasks within support tickets manually or automatically based on workflow rules.

Service Level Agreements

Define multiple standard SLA's which include guarantees response, restore, and resolve times, or create custom SLA based on unique customer contracts.

Email Notifications

Notify support team members and customer contacts automatically when important events occur.

Automated Escalations

Automatically notify team members or change the owner or status of a ticket triggered by time-based and field-based criteria.
Customer Asset Management

Track what you have sold to each customer by product and license count, and manage annual maintenance renewals.

Reporting and Analytics

Built-in reporting engine can report on any ticket-level field and time or SLA data. Make selected reports available to customers or accessible via URL.

Knowledgebase and FAQs

Create a comprehensive knowledge base for your products, both internal and customer facing..

Contract Management

Manage contract templates, attached drafts and final contract documents to customer records, and manage contractual Service Agreements.

Integration with development teams

Move customer bug reports and enhancement request directly into development and link the status of the development record to the support ticket status.
Affordable Plans for Every Scenario
Tailored to provide outstanding customer service
Ticketing
Self Service Portal
SLA Management
Email Notification & Escalation
Sub Task Management
Workflow Process Management
Time Tracking
Dashboard & Analytics
Complete CRM package focused on customer support
Everything in professional plus…
Sales & Marketing modules
Multi-site and multi-lingual support
Asset Management
Professional service billing and invoicing
Customer asset tracking
Project Plan
CTI Integration
Questions?
Give Us a Call 1-800-439-7782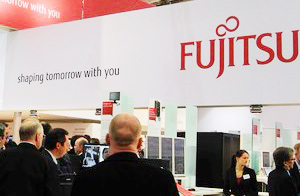 Because of FS's success with ServiceWise, the company has now expanded in the rollout for TechExcel's customer service solution.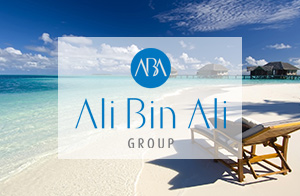 Ali Bin Ali required a customer service support solution that provided all of the traditional features of a Help Desk system.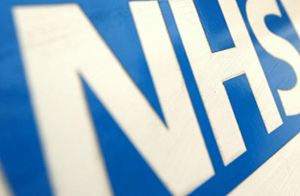 LaSCA required a very complex set of features and functionality in order to support all their requirements; CustomerWise was the perfect fit.